Second Runner-Up in Building Information Modelling (BIM) Competition 2013
Meinhardt MEP, Façade and ESD participated in this BIM competition in partnership with A61, Arup and Langdon Seah at the beginning of this month and emerged as second runner-up.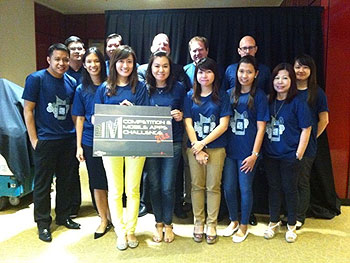 The 48-hours online Building Information Modelling (BIM) Competition 2013 was organised by the Singapore Building and Construction Authority (BCA), in conjunction with its annual Singapore Construction Productivity Week. For the first time, the competition saw International Participation for the Multi-disciplinary Collaboration category. Meinhardt, along with A61, Arup and Langdon & Seah faced stiff competition but did well to clinch 3rd spot.
The gist of the competition was to team up with multi-disciplines to leverage on the Building Information Modelling (BIM) software in order to provide a design within 48 hours. The outcome was not necessarily about providing a complete design at the end of 48 hours but to explore the potential of using BIM to facilitate the design process. During the 48 hours, five submissions were made on Day 1 at noon and 11pm, Day 2 at noon and 11pm, and a final submission at 9am on Day 3. The competition culminated with a 15-minute presentation on Monday 29 July.
Above all that, the competition took place amidst hectic daily work schedules which resulted in the need to juggle submission deadlines on both ends. Committed and driven, weekly meet-ups were scheduled in the lead up to the competition to strategise on the team plan despite the site and other design brief requirements not being revealed. In a strong display of skills and team work, Team V's collective contribution was commendable and certainly did Meinhardt proud.