Dr Shahzad Nasim
Group Executive Chairman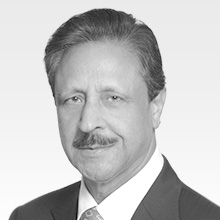 As Group Chairman, Dr Shahzad Nasim is involved with the Group and works closely with the Management team to oversee the performance of all Meinhardt offices across the globe, client management and providing input to all the major projects undertaken by Meinhardt Group.
Dr Nasim's career as a Professional Structural Engineer spans more than three decades. He is responsible for the overall coordination of multi-disciplinary professional teams, leading the conceptual designs and overseeing the detail design and constructions of major and complex projects undertaken by Meinhardt. He has built a regional reputation for providing highly innovative, buildable and cost-effective solutions for tall buildings and complex infrastructure projects.
The projects led by Dr Nasim include some of the landmark commercial offices, residential and retail and entertainment complexes such as The Dubai Mall (UAE), The Marina Bay Financial Centre (Singapore), The Sail @ Marina Bay (Singapore), One Raffles Quay (Singapore), OUB Centre (Singapore), The River (Bangkok) and Bank of China (Hong Kong).
Dr Nasim is regularly invited to speak at local and regional conferences and has numerous papers to his credit. He is also actively involved in educational, professional and statutory boards related to the construction industry.
Info

Skills & Expertise

Landmark commercial offices, residential and retail and entertainment complexes such as The Dubai Mall (Dubai, U.A.E), The Marina Bay Financial Centre (Singapore), The Sail @ Marina Bay (Singapore), One Raffles Quay (Singapore), OUB Centre (Singapore), The River (Bangkok) and Bank of China (Hong Kong).

Projects